WE'RE EXCITED !!!

Tomorrow, four of our ASI athletes, Claire Campbell, Ainsley Krug, Maddie Dean, and Gracie Caldwell will be competing for the Kansas State Championship in swimming!
Needless to say, we're super pumped and very proud of our athletes.  
Since working with us, Claire has managed to shave almost 2 full seconds off of her 200 meter freestyle time representing Freestate High School.
Sophomore Maddie Dean was on the team that broke the 200 medley team record for Lawrence High. This is an extremely impressive accomplishment, especially from underclassmen!
Read the full article here:
http://www2.ljworld.com/news/2017/may/06/free-state-2nd-lawrence-high-3rd-sunflower-league-/?high_school_sports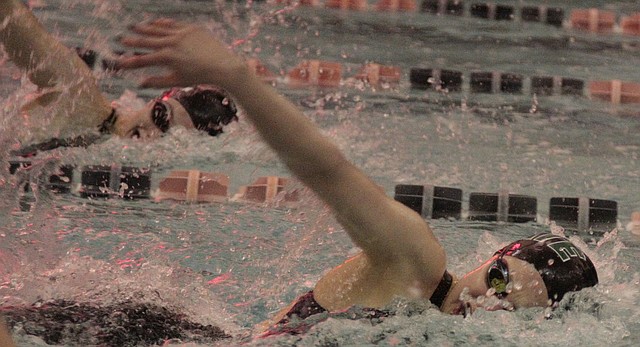 (Image Credit: http://www2.ljworld.com/staff/chris-duderstadt/)
A Peek Into the Training Regiment:
Strength training for swimmers is the foundation of our swimming training regiment here at the Athletic Strength Institute. Swimming is extremely demanding physically because of the need for strength, power, and endurance. We believe that its vital to concentrate on core strength and structural balance (especially of the shoulders) to see the kind of results we are seeing from our athletes.
The need for a solid base/core is crucial because a swimmer is using their muscles not only for stability but also for propulsion through the water. The key to success in the pool is about efficiency and being able to maintain good form throughout the duration of the race. In athletes, we typically see breakdowns in endurance and form once the core becomes fatigued. Once the core is fatigued it can also lead to altered shoulder function, which is why we specifically concentrate on building our athletes from the core out. If the core is strong and conditioned, it allows the legs and arms to focus on slicing through the water, thereby making you faster and more efficient.
If you are a swimmer or the parent of a competitive swimmer,we invite you to reach out. Whether you would like to schedule a structural balance assessment, help with your nutrition or a customized program to help you knife through the water and leave your competition in your wake… we are here to help and we'd love to start the conversation with you.